Winery Happenings
Welcome to the Kehret Vineyards blog with news and musings from around the winery.

I'd like to tackle an age-old question, and one of the more contentious topics in winemaking circles: is it better to filter a wine or not?
Let's Start With the Science
The basic concept of filtration is pushing wine through a material, usually a membrane with microscopic openings (pores). The portion of wine which is smaller than the membrane's pores pass through the membrane as permeate; what is retained is retentate. The larger particles include such things as yeast, bacteria, lees, and large particulates, which can create microbiological spoilage (example: yeast can ferment residual sugar in the wine and create off flavors, aromas and effervescence), or they can create a hazy wine. The smaller portion includes water, alcohol, organic acids, polysaccharides, etc. More often than not, wine is sterile filtered just prior to bottling whereby a wine is forced to pass through microscopic pores.
Proponents of filtration believe the removed particles are flaws or pose a risk, or both. Another belief is that the physical process of filtration does not damage the wine. I have differing beliefs. While it's true that bacteria and yeast can pose a threat, that is only true if proper care and risk assessment were neglected in the winemaking process. Unfiltered wines will not be crystal clear, but will have a haze. This is a cosmetic issue, not a quality concern. I have done many trials evaluating filtered versus unfiltered wine and tracked them in blind tastings over the years, and it is clear (no pun intended!) that filtration demonstrably affects wine quality. Filtration strips wine of flavor, aroma, texture, and limits a wine's ability to express its vineyard personality, or terroir as the French call it.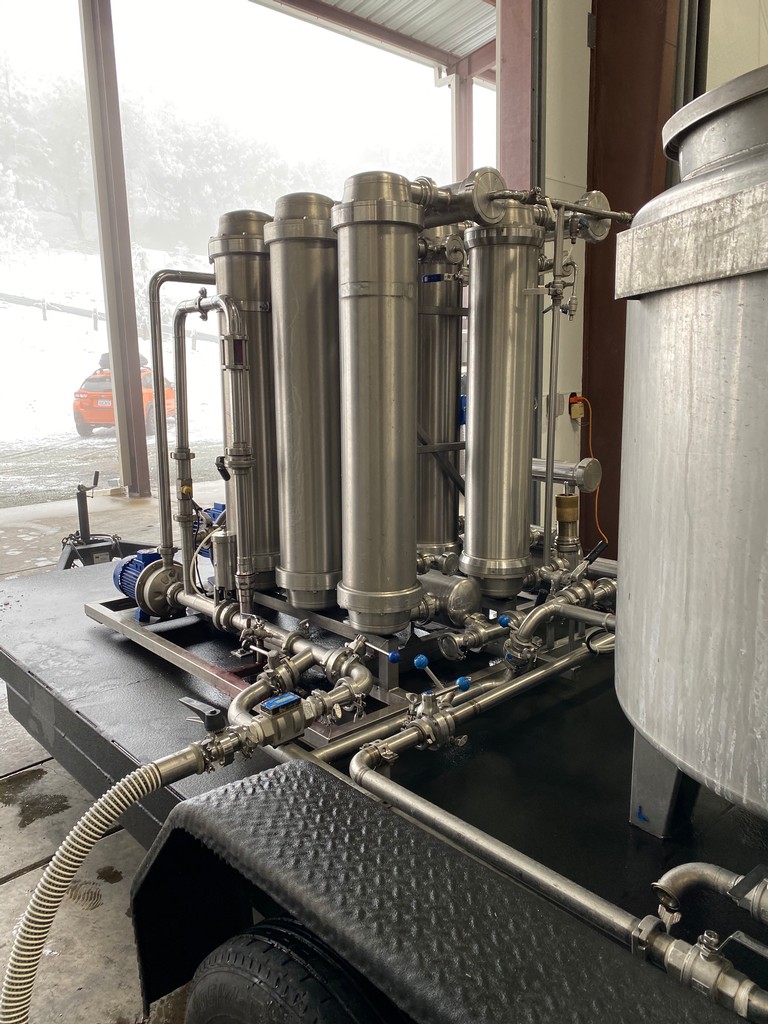 A mobile cross flow filteration system - a modern marvel of engineering
But Wait, There's More!
While the process of filtration is untenable to me as a lover of wine, my real motivation to bottle without filtration is that it necessitates diligent winemaking throughout the entire process, from vineyard to bottle. So many benefits are afforded to those who aspire to bottle wine without filtration. Here are just a few:
Promotes harvesting only perfectly ripened grapes. If unfiltered is the goal, you cannot have grapes with disease, defects or contamination, nor can you pick overly ripe grapes, as all of these will create undue risk to unfiltered wines.
Prevents sweet wines. Other than dessert wines, I loathe tasting wines marinating in sugar. Having residual sugar in wine is likely due to issues in winemaking, or done by design to mask flaws or appeal to the less discerning palate. Any sugar residing in an unfiltered wine is a microbial time bomb!
Avoids excessive oxygen. Oxygen is to be avoided in winemaking, except at distinct moments when meticulously administered. Excessive oxygen exposure compromises a wine's freshness, color, flavors, aromas and textures, all the while providing spoilage microbes a boost to their metabolic needs.
Facilitates gentle handling. In order to bottle without filtration, you must gently and naturally allow for clarification. This is no easy task. For filtered wine, you first move the wine out of barrel using pumps and then you forcefully filter the wine to gain clarity. In order to naturally clarify and bottle without filtration, you need to stage your barrels (or have wine in tank) undisturbed for several months to allow compaction of the lees to gain clarity. Then, you carefully rack your wine off the lees and out of barrel by gravity (siphoning) into an oxygen-protected sump. This takes time, space, patience and a lot of skill – not to mention a significant loss of wine that is suspended in the lees layer at the bottom of each barrel.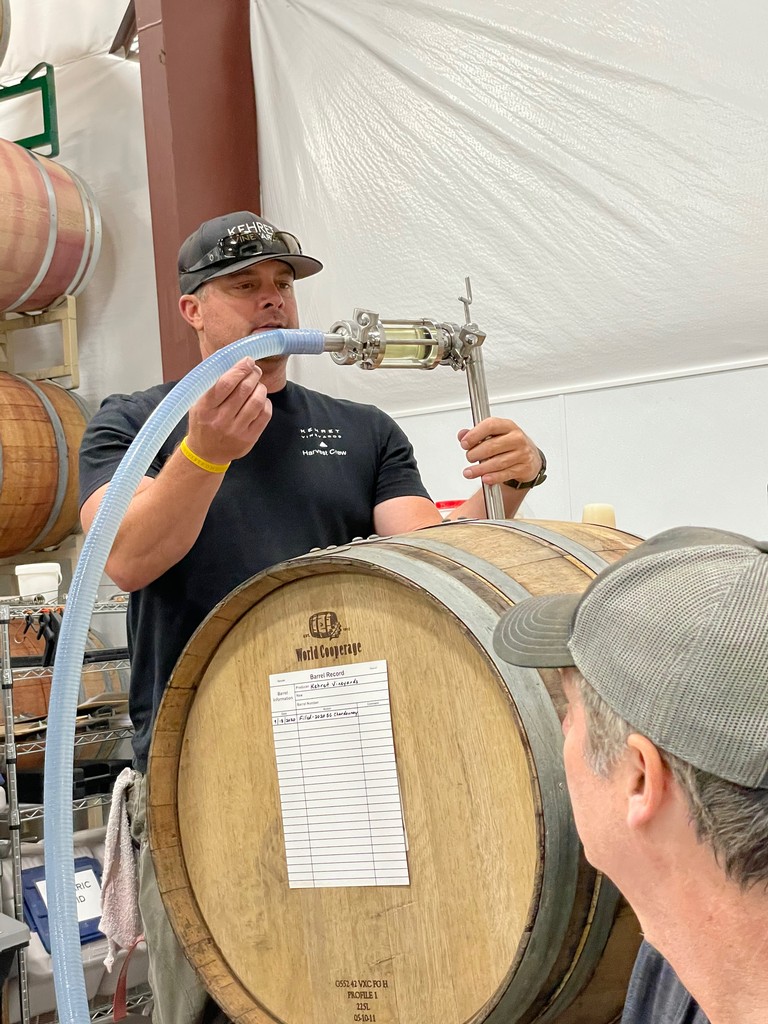 Carefully siphoning our 2020 Chardonnay for bottling after months of being undisturbed for impurities to settle
Promotes a clean cellar. While cellar sanitation rarely finds its way into winery marketing and PR messages, it is paramount in achieving unfiltered status, as a dirty winery is fraught with contaminants. A clean cellar allows for better winemaking practices at every stage and delivers wines with vineyard-derived richness, complexity and freshness.
Say goodbye to bottle shock! This term is used to describe the period after bottling when a wine closes down due to the harsh process of bottling (read: filtration). It can take many months for a newly bottled wine to recover some of the aromas and flavors lost due to filtration, and they may never again reach the levels they achieved in barrel before filtration. With my decades of experience producing unfiltered wines, they remain open and expressive, just as they were in barrel.
And so many other benefits: proper fermentation management, sound topping wine protocols, lees management, early blending, and on and on…
So, if good fortune brings an unfiltered wine to your table, please excuse the haze and know that a lot of extra care and effort went into its creation so that you can enjoy the best expression the vineyard has to offer!

I love seeking out new vineyard sites with unique soils, climates, terrains, aspects and elevations, all in the pursuit of finding that special vineyard which brings all the essential components together to make magical wines. I have had the great fortune of making wine from premier vineyards throughout the entire Western United States. I have walked 1000 miles of Pinot, spanning vineyards in Willamette Valley, Oregon in the north, down to Santa Rita Hills in Santa Barbara, and everywhere in between. Napa Valley, and its 16 AVA's, is my backyard. It seems I have been on every mountain road that dead ends at a vineyard site, and have combed through most of Napa's valley-floor vineyard properties. Recently, I began working in the northeastern reaches of the Columbia Valley in Washington State, with its abundant glacial influences, prolonged summer days and the moderating Columbia River running along the edges of the vineyards. Suffice it to say, I have made wine from my share of vineyards.
In 2020, I was provided an amazing opportunity to oversee winemaking for Kehret Vineyards. I knew they were a boutique, quality-minded vineyard in the Fair Play AVA, who also sourced grapes from the surrounding Sierra Foothills, but not much else. I quickly became enamored by the beauty and uniqueness of the area and immersed myself into its many terrains. It was incumbent upon me to understand the interplay of all the various growing conditions in this vast winegrowing region. With new beginnings in new vineyard settings, I always ask: What makes this place so special? For the Kehret Estate vineyard, and the greater Sierra Foothills, I have come to realize the answer lies in its soils, mountain elevations and diversity of sites.
"We know more about the movement of celestial bodies than about the soil underfoot."
– Leonardo Da Vinci
Okay, to be fair, now we know infinitely more about soil than Leonardo and the other Renaissance thinkers did. While branches of science are dedicated to understanding soils, it still holds many mysteries in its influence on world-class winegrowing. This much I know – grapevines are vigorous, and making the best wine entails creating stressful conditions on the vine. And nothing is better at reigning in vigor than nutrient-starved, well-drained soils. The Sierra Foothills soils, while having a dizzying amount of diversity, all have that in common. Smaller vines produce smaller amounts of more concentrated fruit. Soils also provide the canvas on which a wine's texture is created. At the Kehret Estate vineyard, our soils are composed of decomposed granite and gravel, which makes for challenging growing conditions. When properly regulated, the wines produced are abundantly rich and layered, owing much of their texture to our unique soils.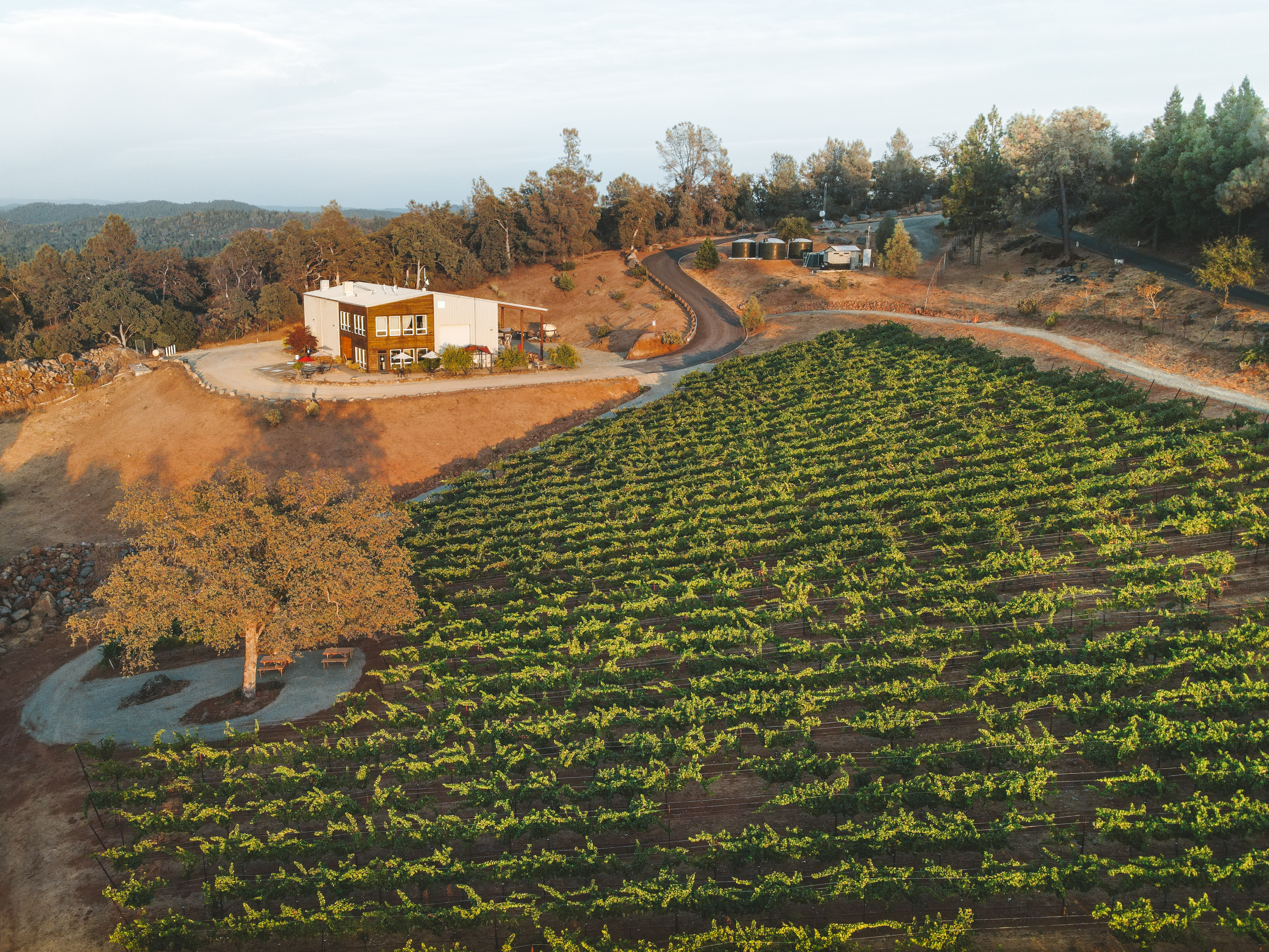 "The mountains are calling and I must go."
– John Muir
The best vineyards in the world are grown on slopes and hillsides, particularly in mountains. Elevation provides conditions, especially for red varieties, for advanced flavor and texture development. Fog is rarely present and the sun's radiant energy is stronger and provides for more intense and complex flavors and tannins. Another benefit of a high elevation is having relatively warmer nights during the key period of ripening - and while conventional thinking would have you believe ripening only occurs during the daytime, many of the metabolic precursors of flavor, aromas and texture develop during this period of warmer nights. Mountainous influences provide for smaller berry size as well, which bestows even more textural concentration and pronounced flavors. Sitting at 2615 feet of elevation, the Kehret Estate vineyard soaks in these blessings of nature, which culminates into richly flavored, complex wines.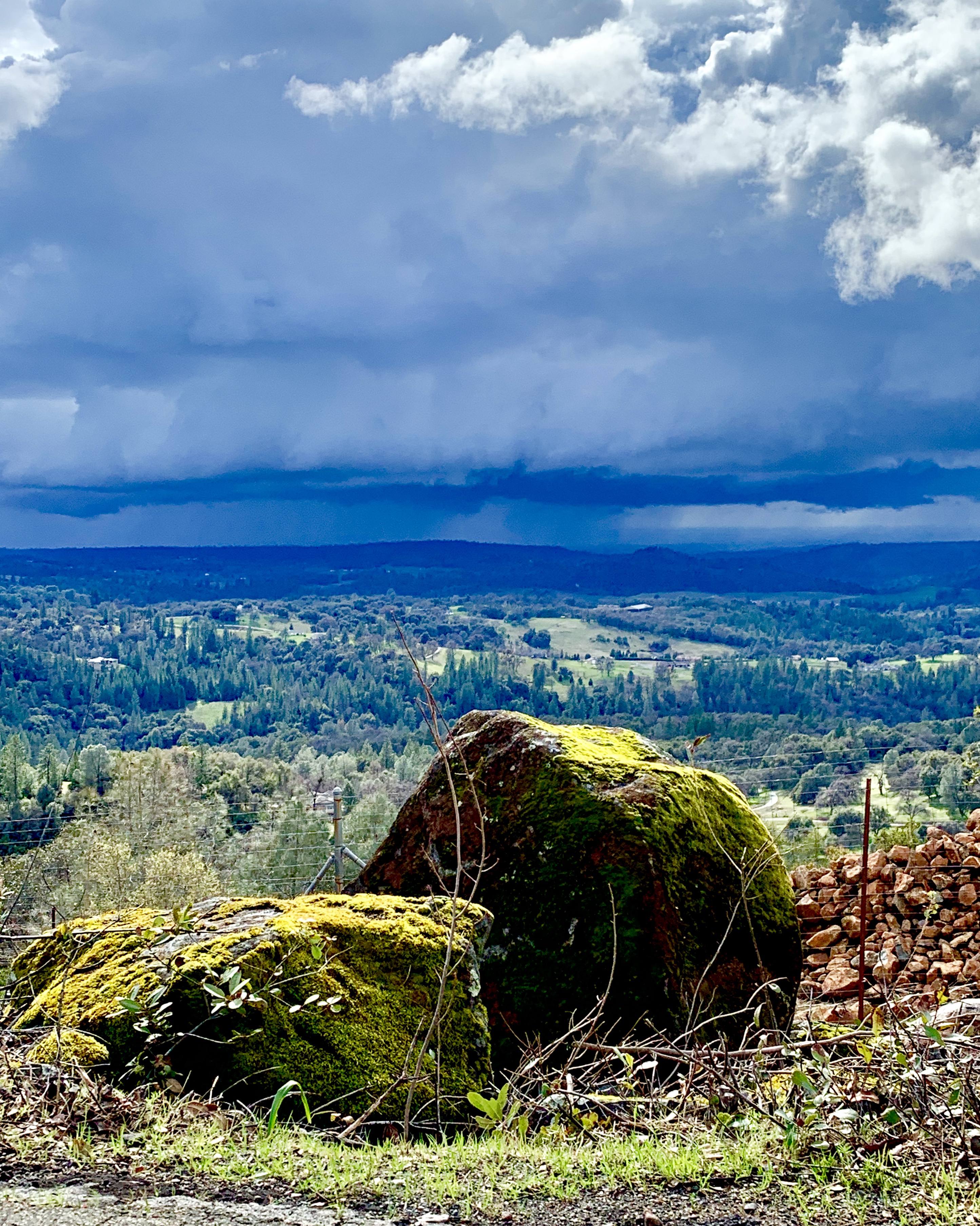 "A lot of different flowers make a bouquet."
– Islamic Proverb
I have long enjoyed wines from the Sierra Foothills. While the area's cultural history is steeped in gold, the establishment of a single archetype variety or wine seems elusive. Zinfandel led the charge in building the AVA's reputation, as it did with many winegrowing regions in California, but emerging varieties and blends have become more fashionable. Petite Sirah, GSM's, Barbera, Cabernet blends, Sauvignon blanc, and white Rhones have all made a stance in capturing the attention of the consumer. So, what grows best in this sacred ground?
In short, all of them. The Sierra Foothills is a vastly diverse region. Even while driving from vineyard to vineyard, I am struck by the natural diversity: oaks strewn alongside the roads while pines and other conifers abound higher in the ridges, and hearing the rivers and streams meander near vineyards, while viewing the picturesque snow-capped Sierras as a backdrop to the east. For vineyards, that same diversity exists, which gives rise to the mélange of grape varieties planted. Diversity of soil, elevation, temperature, aspect, slope, wind, exposure to the sun, and other facets of terroir provide ideal conditions for a multitude of varieties.
Diversity is manifest in the Sierra Foothills, and the wines reflect that.

Things are quiet now here on the winemaking front at Kehret Vineyards. All of the red wines have been drained off of their skins from fermentation tanks, and are slowly moving through malolactic fermentation in French oak barrels. Rob and I are now able to reflect upon, and evaluate, the 2020 vintage. It was a busy harvest!
The year 2020 will be defined by the Covid-19 pandemic and, more locally, the West Coast wildfires. Our sympathies go out to all inflicted by them. Kehret Vineyards and the greater Sierra Foothills winegrowing area were blessed to have dodged a bullet in escaping the fires and the damaging influence of smoke taint. The 2020 growing season in the Sierra Foothills was, as we like to say, a winemaker's vintage. The rains happened at the right time, and in the right amounts. The flowering of the grapes and development of canopies occurred under idyllic conditions – warm and sunny, with gentle breezes. The most critical period of the season - from veraison to harvest - where flavors, color and texture develop, was almost scripted, with warm to hot afternoons, cool nights and no rain! The grapes were picked either at night or in the coolest morning hours, which preserves the freshness and nuance from the vineyard.
Kehret Vineyards' estate grown fruit is the example of preeminence in terroir and viticulture, providing us with our most prized wines. We also source fruit from within Fair Play and surrounding AVA's (American Viticultural Areas), but only partnering with the premier growers in the area. Rob and I were charged with finding grapes from these growers, often in remote enclaves within mountainous terrains. I have spent my career scouring viticultural regions seeking out these rarified opportunities. In 2020, our searches were rewarded, as we have partnered with like-minded growers whose singular focus is to produce the best grapes from the region, and to have their vineyards transformed into truly world-class wines. It was now on us to reciprocate their efforts in the vineyard and showcase our winemaking abilities.
Bill and Bonnie Kehret's vision of creating compelling, world-class wines, high atop the El Dorado AVA, required an entire winery renovation and an absolute commitment to every detail of winemaking. Rob and I are honored to have a fully state-of-the-art winery as our playground. Our winemaking strategies and goals for 2020 could not have been more ambitious. I pride myself on the highest quality, precision winemaking, and that became our guiding principle. Every decision during harvest and fermentation (and believe me, there are thousands of decisions to be made!) has consequences. And we must ask ourselves at every step, will this improve quality? We are believers in having no shortcuts and no excuses. Our methodologies are both traditional and innovative. Tried-and-true traditions have the benefit of centuries-long success, while innovative, risk-taking approaches push our comfort level in seeking the benefits of quality. Following is but a short list of methods used at Kehret Vineyards for our red grapes:
Grape Sorting and Destemming: Every cluster is inspected along a sorting conveyor. To create wines reflective of their vineyards, every grape berry must adhere to the strictest of standards. Each cluster is gently ushered through our de-stemmer (where grapes are removed from their stems), whereby individual berries are then sorted again. We fanatically remove every remaining stem fragment ("jacks", as we call them) and then we slightly crack each berry so that it is left mainly intact, while allowing the juice to slowly escape during fermentation. Then we allow the perfect berries to pass into a collection bin and add dry ice to gently extract color.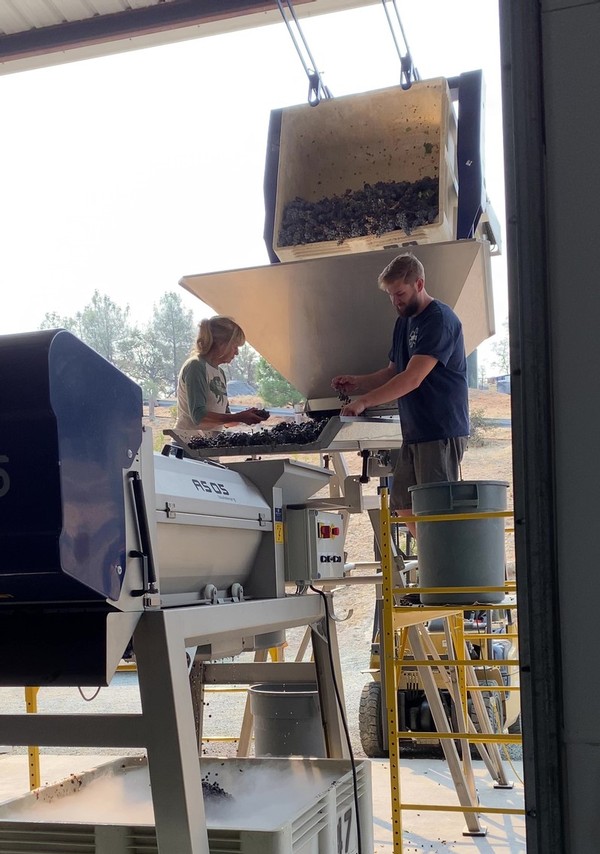 Gravity Feeding: We fabricated a hopper (a large stainless funnel) to fit on top of our fermentation tanks, and then lift the perfectly sorted grapes into the hopper to feed the tanks. I will not pump grapes into the tanks, even though it is standard practice in the industry. After all the dedication in the vineyard, and the painstaking and laborious sorting, why would one then thrash the berries and subvert our efforts to make world-class wines?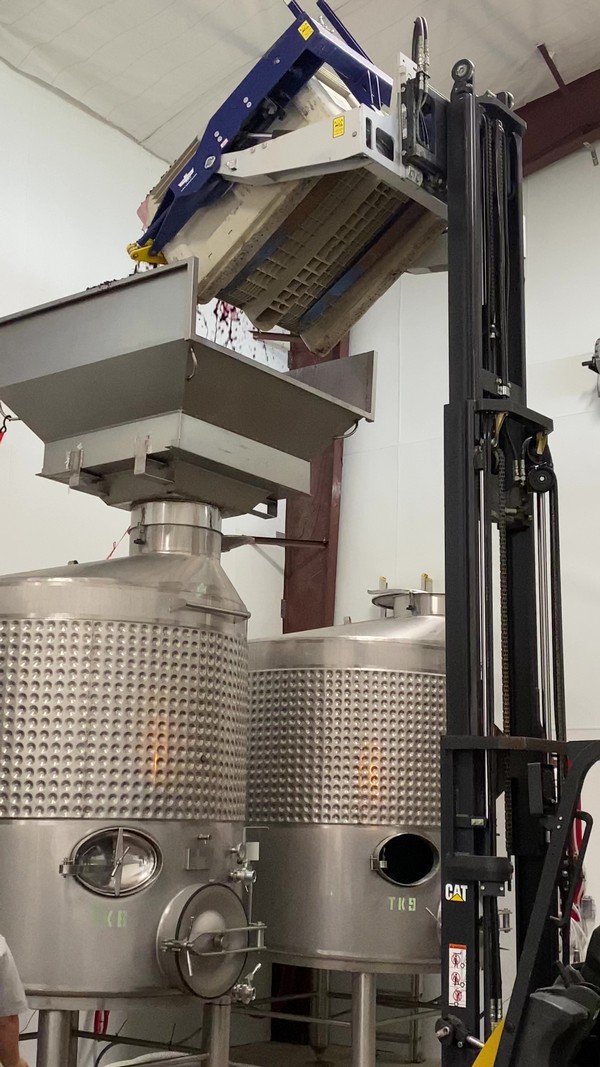 Cold Soaking: Before we allow fermentation to proceed, we cool the grapes in tank for some period of time. This "cold-soaking" is also called aqueous extraction (I know, getting geeky here), and allows further gentle extraction of color, flavors and supple skin tannins.
Fermentation Management: We manage each fermentation lot according to the needs of that vineyard. The fermenters are all unique in their needs, depending upon the vineyard, the vintage and the stage of fermentation. The fermenters are tasted daily, and a strategy for how to best extract the flavors, color, texture and nuance is determined. This is not the standard approach! We use science, intuition and our experience to drive these decisions. At Kehret Vineyards, we do not make wine by recipe. We employ a myriad of fermentation management techniques, all at the appropriate time for the individual fermenters. Once we have created the perfect texture and balance, we allow the wine to drain from the skins, out of the tank, and into French oak barrels.
So, now you are caught up with harvest 2020 at Kehret Vineyards. The journey continues, as the wine will be meticulously aged in barrel, blended and bottled without fining or filtration.
I will be providing more insights to our winemaking and vineyard endeavors, so please check back soon.
Cheers,
Steve