December 15, 2020 | Steve Leveque
Vintage 2020: One For The Record Books
Things are quiet now here on the winemaking front at Kehret Vineyards. All of the red wines have been drained off of their skins from fermentation tanks, and are slowly moving through malolactic fermentation in French oak barrels. Rob and I are now able to reflect upon, and evaluate, the 2020 vintage. It was a busy harvest!
The year 2020 will be defined by the Covid-19 pandemic and, more locally, the West Coast wildfires. Our sympathies go out to all inflicted by them. Kehret Vineyards and the greater Sierra Foothills winegrowing area were blessed to have dodged a bullet in escaping the fires and the damaging influence of smoke taint. The 2020 growing season in the Sierra Foothills was, as we like to say, a winemaker's vintage. The rains happened at the right time, and in the right amounts. The flowering of the grapes and development of canopies occurred under idyllic conditions – warm and sunny, with gentle breezes. The most critical period of the season - from veraison to harvest - where flavors, color and texture develop, was almost scripted, with warm to hot afternoons, cool nights and no rain! The grapes were picked either at night or in the coolest morning hours, which preserves the freshness and nuance from the vineyard.
Kehret Vineyards' estate grown fruit is the example of preeminence in terroir and viticulture, providing us with our most prized wines. We also source fruit from within Fair Play and surrounding AVA's (American Viticultural Areas), but only partnering with the premier growers in the area. Rob and I were charged with finding grapes from these growers, often in remote enclaves within mountainous terrains. I have spent my career scouring viticultural regions seeking out these rarified opportunities. In 2020, our searches were rewarded, as we have partnered with like-minded growers whose singular focus is to produce the best grapes from the region, and to have their vineyards transformed into truly world-class wines. It was now on us to reciprocate their efforts in the vineyard and showcase our winemaking abilities.
Bill and Bonnie Kehret's vision of creating compelling, world-class wines, high atop the El Dorado AVA, required an entire winery renovation and an absolute commitment to every detail of winemaking. Rob and I are honored to have a fully state-of-the-art winery as our playground. Our winemaking strategies and goals for 2020 could not have been more ambitious. I pride myself on the highest quality, precision winemaking, and that became our guiding principle. Every decision during harvest and fermentation (and believe me, there are thousands of decisions to be made!) has consequences. And we must ask ourselves at every step, will this improve quality? We are believers in having no shortcuts and no excuses. Our methodologies are both traditional and innovative. Tried-and-true traditions have the benefit of centuries-long success, while innovative, risk-taking approaches push our comfort level in seeking the benefits of quality. Following is but a short list of methods used at Kehret Vineyards for our red grapes:
Grape Sorting and Destemming: Every cluster is inspected along a sorting conveyor. To create wines reflective of their vineyards, every grape berry must adhere to the strictest of standards. Each cluster is gently ushered through our de-stemmer (where grapes are removed from their stems), whereby individual berries are then sorted again. We fanatically remove every remaining stem fragment ("jacks", as we call them) and then we slightly crack each berry so that it is left mainly intact, while allowing the juice to slowly escape during fermentation. Then we allow the perfect berries to pass into a collection bin and add dry ice to gently extract color.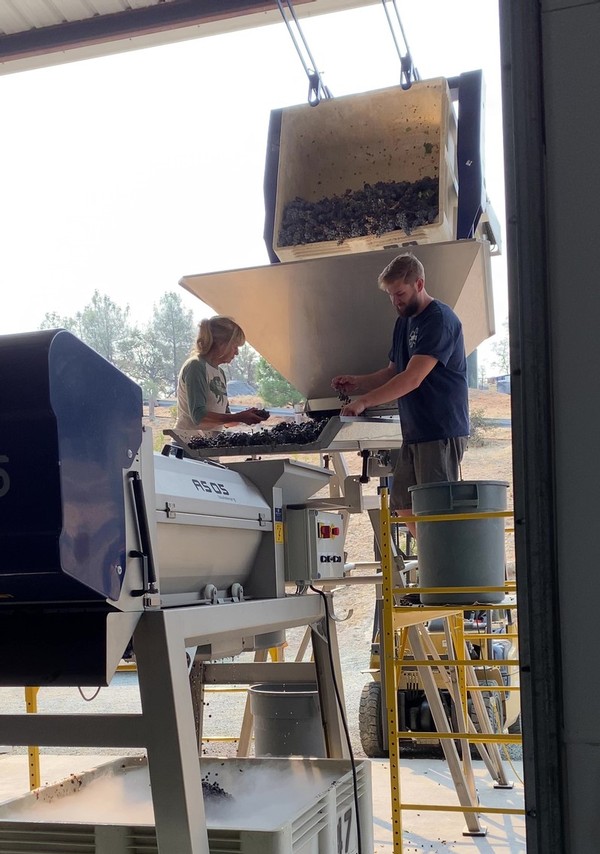 Gravity Feeding: We fabricated a hopper (a large stainless funnel) to fit on top of our fermentation tanks, and then lift the perfectly sorted grapes into the hopper to feed the tanks. I will not pump grapes into the tanks, even though it is standard practice in the industry. After all the dedication in the vineyard, and the painstaking and laborious sorting, why would one then thrash the berries and subvert our efforts to make world-class wines?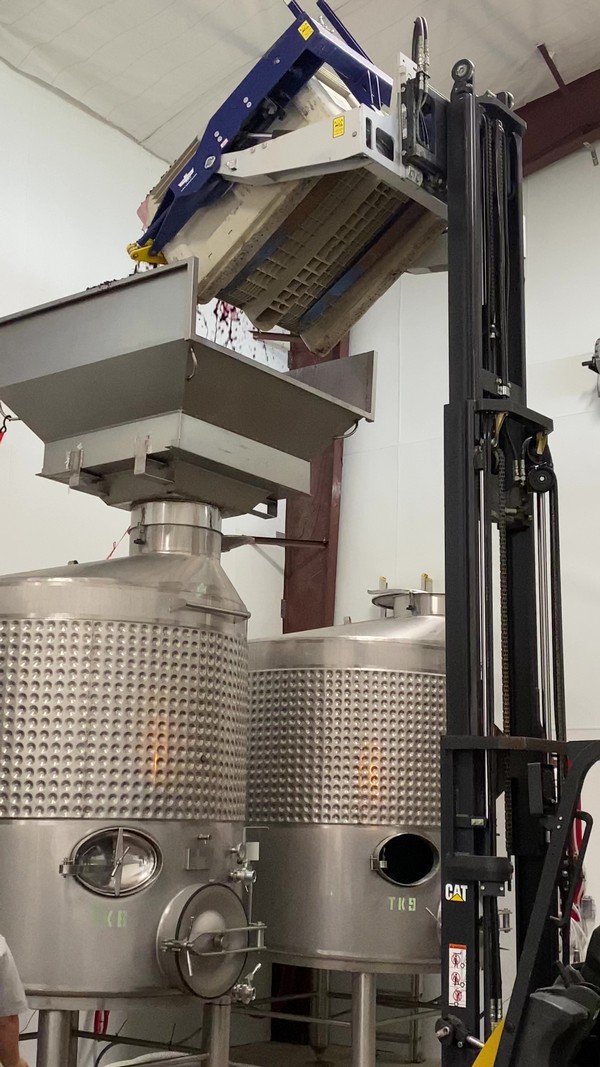 Cold Soaking: Before we allow fermentation to proceed, we cool the grapes in tank for some period of time. This "cold-soaking" is also called aqueous extraction (I know, getting geeky here), and allows further gentle extraction of color, flavors and supple skin tannins.
Fermentation Management: We manage each fermentation lot according to the needs of that vineyard. The fermenters are all unique in their needs, depending upon the vineyard, the vintage and the stage of fermentation. The fermenters are tasted daily, and a strategy for how to best extract the flavors, color, texture and nuance is determined. This is not the standard approach! We use science, intuition and our experience to drive these decisions. At Kehret Vineyards, we do not make wine by recipe. We employ a myriad of fermentation management techniques, all at the appropriate time for the individual fermenters. Once we have created the perfect texture and balance, we allow the wine to drain from the skins, out of the tank, and into French oak barrels.
So, now you are caught up with harvest 2020 at Kehret Vineyards. The journey continues, as the wine will be meticulously aged in barrel, blended and bottled without fining or filtration.
I will be providing more insights to our winemaking and vineyard endeavors, so please check back soon.
Cheers,
Steve
Comments
Commenting has been turned off.